Vietnam: 2-year-old Hoang Dang Quang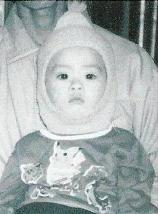 When we learned little Hoang needed heart surgery he was very sick with pneumonia and weakening. His situation was very urgent and could not wait.
His family's situation was very poor and miserable with many members with difficult situations. As well, the family was caring for 3 other children and a grandmother. The family's income depended on growing rice and the plant cassava. They were extremely poor but still had hope for a bright future so the child's father tried with all his effort to provide nourishment for all the family. The hospital told us they were very moved with his love and felt he was a man with responsibility.
With the help of caring donors we were able to help this little child receive the surgery that saved his life. His family was overjoyed to find his health status much improved following his surgery.

Hoang's parents share their appreciation:
"We are parents of Hoang Dang Quang, we do thank you a lot for your great concern and kind help. Thanks to the amount of the fund, my child was operated smoothly and his health is recovering. He is permitted to leave the hospital today. Our family really owes you...much gratitude for saving the life of our child.
"We wish all the best to you."

Please make a donation to help children overcome heart defects.