Vietnam: 6-year-old Nguyen Thi Xuan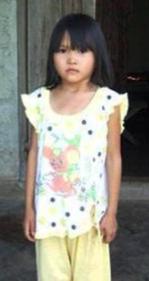 Xuan had a serious stroke and her parents took her to the hospital seeking treatment. They were filled with great sadness when the doctor informed them that Xuan suffered from heart disease and was in very bad condition. She needed an urgent operation to save her life. Sadly, Xuan's parents could not afford to pay her surgery cost and they had to take her back home.
Like other farming families Xuan's parents have always worked hard but have many difficulties in their life. They have little land to cultivate and no stable jobs so their income is very uncertain. They live in a midland region where there is no irrigational network. They plant rice and vegetables on their small piece of land but there is only one crop each year so their annual harvested products are very small. When there is a drought there is no harvest.


To earn more money for the family's daily expenses Xuan's father must work as a hired labor doing things like cutting and chopping wood. This earns him $6 each month. Beside the farming work, Xuan's mother also raises one pig and one buffalo to add more income for the family. With sparing living Xuan's family has enough rice to eat throughout the year.
Xuan's parents were overcome with panic for their little girl's life and sold their buffalo for $606 to collect money for her surgery cost. Sadly, even that would not even come close to what they needed to save her life. Her family hoped to receive help from kind hearts. Fortunately Xuan's doctor introduced her to our partner organization and many came together, including Bless the Children, to provide the surgery she so desperately needed.
Following her surgery her doctor reported her condition was excellent.
Xuan's father shares his family's appreciation:
"We are so happy to see our beloved child Xuan in good state again. For a long time, we couldn't imagine to have enough money for her surgery. You yourselves gave us rays of hope and endless happiness for all of us. We are really deeply grateful for your great support and kind hearts. We always think of you."

Please make your donation now to help save a child's life.