The John Grove Memorial Fund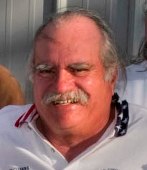 In December of 2008 Bless the Children lost a very close friend and partner. John Grove was a true hero and he left behind a legacy of service and an inspiration to many to do the same. For three decades the former vice president of the McCoskrie Threshold Foundation, Major John W. Grove, devoted his life to humanitarian aid in his own community and to the improvement of the lives of countless poor children and their communities internationally. John Grove was a career United States Air Force special operations helicopter pilot and his experiences across the globe showed him both the richness of blessings of America and the tremendous opportunity for good for the poor and ravaged parts of the globe.
John flew the CH-53 (helicopter) in Thailand during the Vietnam War, and ultimately became one of a dozen elite crews flying the MH-53 Pave Low from Hurlburt Field in the years of renaissance of US special operations after the failed rescue attempt of US hostages being held in Iran in 1980. During one of many "training" deployments to Central America in the 1980s in support of US Special Operations Command missions, the seeds for The John Grove High School were planted in John's mind. Several years later John, in partnership with Bless the Children started The John Grove High School.
A career air commando, John's real work was after his retirement and along with The McCoskrie Threshold Foundation (MTF), Bless the Children, Inc. (BTC) and the support of many donors, he sent countless shipments of aid globally and supported a number of projects, including fresh water projects in Thailand back where he first flew the H-53 during the Vietnam conflict, support in relocating Vietnamese Montagnard tribesmen and their families to North Carolina as well as support to the poor living in the Appalachian Mountains.

A dear friend of John's laments, "Aside from losing John in general, one of the saddest things is to think that all he had been working for would stop." In order to continue his endeavors, Bless the Children, Inc. established The John Grove Memorial Fund in his honor. This fund will ensure those programs he personally funded will continue.
Click here to read more on Major Grove.
The John Grove High School in Honduras

In Honduras, Central America in 2006 John helped establish the very first high school ever in the Mico Quemado mountain region, "Colegio John Grove Fuerzas Vivas". The project first started after John learned from good friend Karen, founder of Bless the Children, that there was no education available to the children of the mountains beyond the 6th grade. John said, "To help these people out of the cycle they are in, generations of poverty, an education is necessary. It is my plan to help with this effort..."
Working closely with George Mealer, director of Bless the Children in Honduras, John donated the funds to purchase 1.5 acres of land that were covered in coffee beans and had a small shack on the property. While George made the arrangements on the ground, directing the construction and establishment of the school, John personally funded the program every step of the way and his vision of helping the children escape poverty burned bright.
Together we established the first-ever high school to serve this poor mountain region. This program is a testament to the beauty of humanitarian work; everyone on the team being good, close friends, a family brought together many, many years ago in the spirit of service. John's legacy is precious to us all for so many reasons.
John donated the funds to buy the land and build a school for the children.
He also provided a toilet, a patio and an adobe stove so they could have lunch at school.

From these humble facilities the education of 40 students began. John provided the teacher's salary, textbooks, school supplies, computers and a generator, a motorcycle for the teacher to get up the mountain to the school and lunch for the children. He knew the only way for the children to escape poverty was through education and he made sure it was available to them.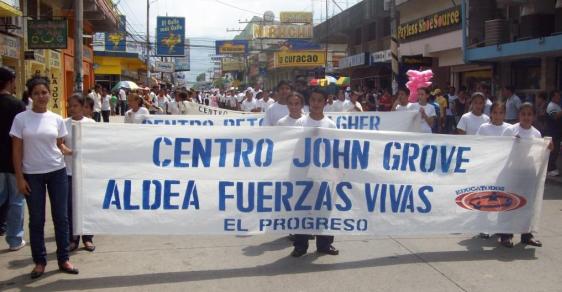 The continuation of John's high school is vastly important to his high school students and to all the children of this mountain region. There are 4 elementary schools of children whose futures depend on the education it provides.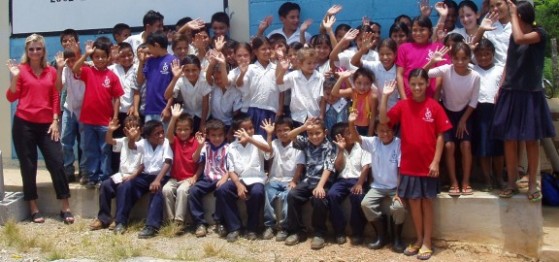 John's high school students also study at the Bless the Children/IWLE English Learning Computer Lab in El Progreso where they gain skills to improve their value in the workforce.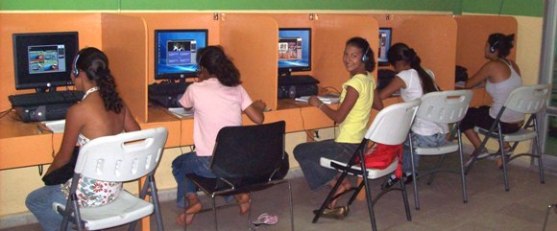 It was important to John that the children of the region also learn a trade so they could provide for themselves through employment. This was something he talked about extensively, even contemplating purchasing and shipping a building to begin a trade school with Bless the Children. Although this dream did not come to pass we are working still to provide "his kids" with a trade. Your support will help make this happen.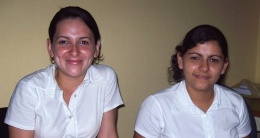 John started a trade scholarship program in 2008. His first two scholarships were awarded to Dunia Aracely Mejia Chavez and Alma Gricelda Calderón, graduates of his high school, to attend the Liz Laurenth Cosmetology Academy in the town of El Progreso. They have completed their first year as top in their class and look forward to graduating with full certificates in November 2009. John was very proud of "his girls".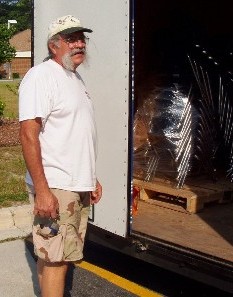 A key method of support for children and their communities throughout the north of Honduras was John's extensive collection, storage, organization, packing and shipment of material aid. Every day he worked to improve the local environment by salvaging anything of value to send to poor communities. Just about everyday he would call, laughing and excited about his most recent "find" and telling another heroic dumpster diving story.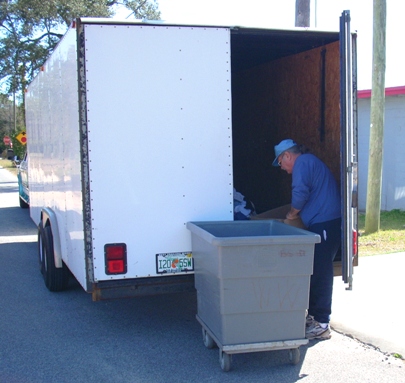 After his passing dozens of volunteers from McCoskrie Threshold Foundation (MTF), the Air Commando Association (ACA) and the United States Air Force (USAF) in Ft. Walton Beach, FL came together to take on the fulfillment of John's material aid efforts. There were close to 30 storage units filled with surplus goods John collected. These materials included: medical equipment and supplies, tools, building materials and supplies, clothing, shoes, toys, sheets, appliances, household goods, books, office and school furniture, paint and more.
| | |
| --- | --- |
| | |

All were shipped in partnership with Bless the Children to help poor communities in Honduras, Jamaica and Guyana. The MTF, ACA and USAF volunteers' accomplishments are beyond commendable for making the packing and loading of these containers possible at all. John would be so grateful to his friends for helping to get this aid delivered to the poor. He would also be happy to know his friends had the opportunity to experience what he knew so well - that the gift of service is the best gift we can give to the world and ourselves.

Mr. Dave Freeman from the MTF reflected upon a day of packing and the reward of knowing he made a difference: "Days like today make me proud to be an American, and remind me of the great times and work I had in the U.S.A.F."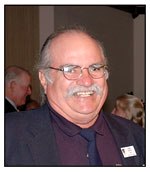 John still needs your help. He gave so much of himself to make a difference for these children and their future. Please help to ensure the children of Mico Quemado Mountain really do escape their extreme poverty through education.

Funds are needed to support the John Grove High School, trade school scholarships for his graduates and to help pay the high monthly storage unit fees associated with material aid efforts.



Your donation will help keep Major Grove's passionate spirit alive and continue his many projects in Honduras and shipments throughout Central America. Please consider setting up an automatic monthly donation through our website.
Contributions can be made online or sent to Bless the Children/The John Grove Memorial Fund, 411 Cleveland St., #195, Clearwater, FL 33755. (Mailed checks should be made out to "Bless the Children".)Please indicate that your donation is for the John Grove Memorial Fund (JGMF). 100% of your donation will go to support these projects. Thank you for keeping the dream alive.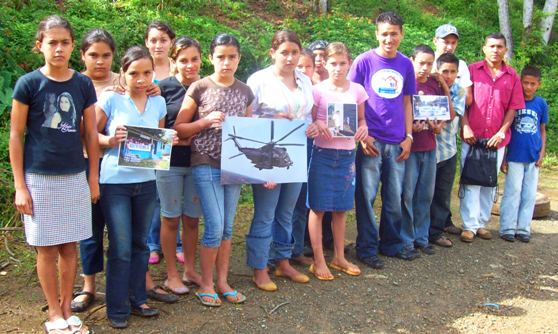 "Thank you for believing in us!"
The Students of the John Grove High School